How to get more women into IT and computing careers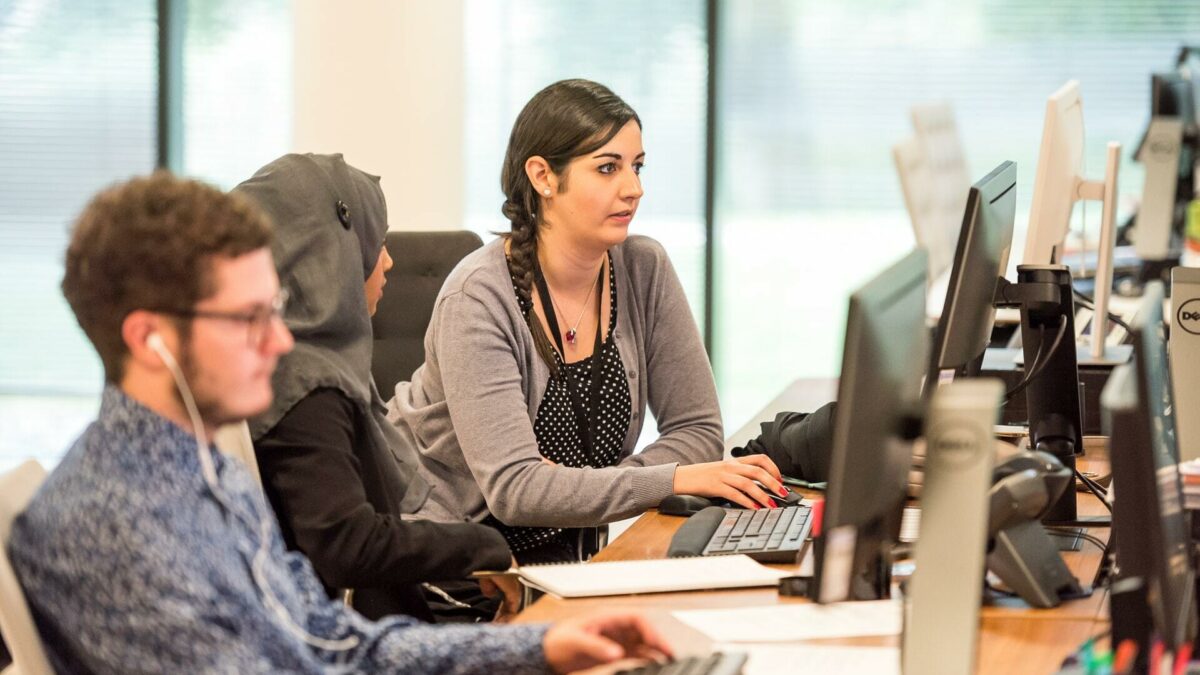 By Fay Capstick
As we saw last week women have played a hugely important role in the history of computing and IT before a decline in their participation. This week we shall be looking at what can be done to encourage more girls and women into an industry where currently only 13% of programmers are women (https://www.stemwomen.com/women-in-tech-how-to-attract-and-retain-female-employees).
Why are fewer women working in IT and computing now?
It is not possible to pinpoint any sole reason why women started to find IT and computing a less desirable career, however we know that it is not due to any lack of talent or interest.
Here are some possible reasons:
The workplace: A workplace that is male dominated, like the IT and computing industry, might not have an atmosphere that would appeal to women.
Stereotypes: As the industry became more male dominated it also became seen as a career suited for men, thus making it worse.
Working practices: Many of the roles in the IT industry are contract, with regular changes of job locations and hours. This tends not to be suitable for women who have school age children at home and need consistency of work.
Further, IT jobs are nearly exclusively full time, and many more women than men tend to be looking for part time work so that childcare and caring responsibilities can be accommodated. It has been found that half of women who do go into IT careers leave by age 35.
So what can be done to encourage girls and women into the industry?
Make the jobs appealing: Girls and women need to see IT and computing as an appealing career. Women would love to work in the industry, but they need to see it as a career that is practical with other life choices that they might make.
They need to know their workplace is suitable and they won't face misogyny and discrimination. Fairly obviously, girls and women are more than capable and interested in the jobs. They just need to feel that it is a career for them.
Promotion: The more women who are promoted in tech roles, the more role models there will be for girls and women considering a career in the industry. They need to see that all jobs are available in the industry, not just in theory but in practice too.
Job descriptions: One for the recruiters - make your job descriptions suited to women. Some words are known to appeal more to men than women, such as 'results driven' and 'high-powered'. Therefore think through how you are wording your adverts and modify them accordingly. If in doubt have the wording checked by a colleague.
Start young: It is essential that young people are encouraged to consider IT careers and to nurture interest in technology as school is where the gender gap starts.
Diverse hiring: Another one for the HR department and recruiters! Extra effort needs to be made to ensure that hiring practices are as diverse as possible. Make your company one that women in the industry want to work for. A diverse workplace has also been found to be a happier one.
Support initiatives: Girls Who Code (https://girlswhocode.com) aims to close the gender gap in the industry and change the image of who a programmer is. Supporting grass roots initiatives like this can profoundly change the demographic of the industry.
Make some jobs part-time: With half of women leaving the industry by age 35, most likely due to the pressures of family and caring responsibilities, it seems logical that part time jobs should be available to that needs can be accommodated. Further, if women were paid equally to men (a disparity highlighted in the annual gender pay gap reports), then would be just as likely to made the decision to stop work or reduce their hours to take on a caring role as it would be just as economically sensible.
Conclusion
Change will take time to filter through, but change is possible, and we firmly believe that the industry can make positive changes that will encourage women to take up an equal role in the industry.
Final thoughts
At Parker Shaw we have been at the forefront of the sector we serve, IT & Digital Recruitment and Consulting, for over 30 years. We can advise you on all your hiring needs. If you are looking for your next job in the IT sector please check our Jobs Board for our current live vacancies at https://parkershaw.co.uk/jobs-board.