Our Award From Unloc Enterprise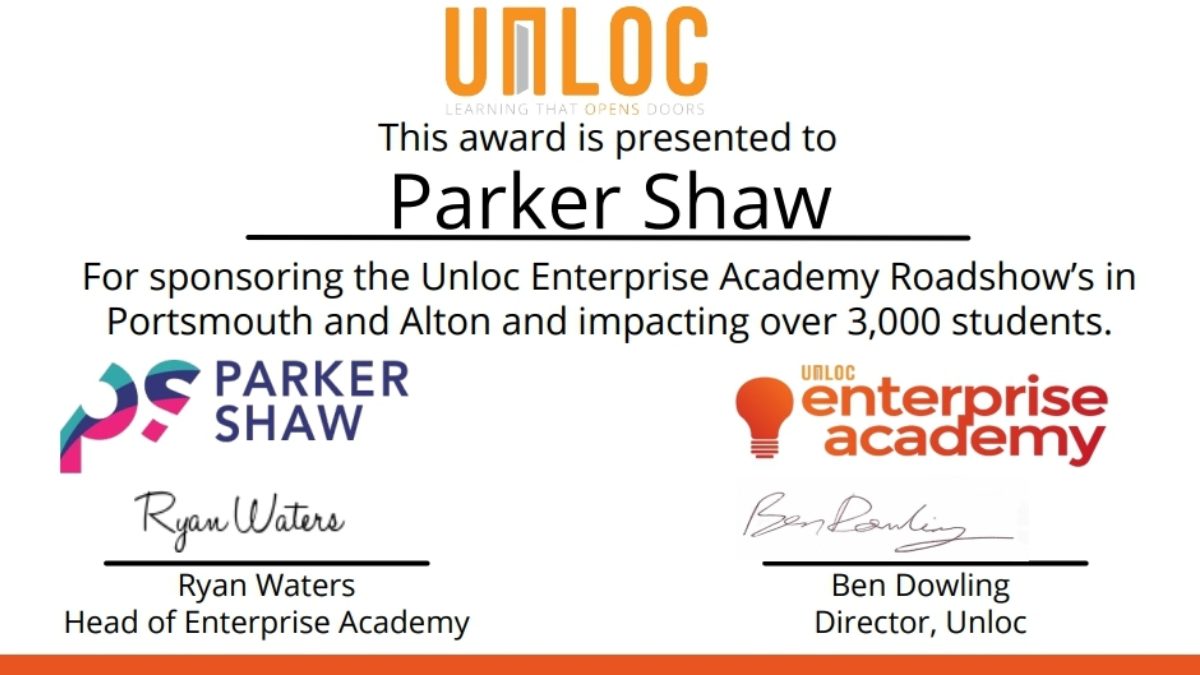 The Award
Here at Parker Shaw we're all feeling very proud to have received the above award from Unloc Enterprise, having helped support their academy roadshows in Portsmouth and Alton. By sponsoring these events alone we have helped over 3,000 students. We have been sponsoring and supporting Unloc Enterprise for eighteen months, and are passionate about helping young people grow their own companies as a way to give something back to the business world. We love to see them being created from scratch, just as Parker Shaw once was, and enjoy watching them on their journeys.
Who are Unloc?
Unloc are a training academy who offer support and infrastructure to young entrepreneurs who want to get their businesses off the ground. Unloc provide these young people with lessons, lectures, space and engaging activities to help their businesses develop. The Unloc Enterprise programme was created by co-founders Hayden Taylor and Ben Dowling who are still very young themselves, but have a vast amount of experience and passion to help other young people succeed in their own business ventures. We are astounded by Hayden and Ben's drive and enthusiasm.
The opportunity to support this fantastic business arose over eighteen months ago when our co-founder Christopher Shaw got talking at a networking event and was told all about Unloc and how they were always looking for advice and sponsors. We took the wonderful opportunity and are now very proud sponsors.
How we help
Along with Unloc, we help mentor young people who have great potential and want to succeed in business. One of those we mentored was Reece Matthews from Digital Dinos, a digital marketing service aimed at startups to smaller companies. Parker Shaw recognised the potential Reece had to succeed, and he has done very well indeed! Christopher Shaw has also been part of panels where the young entrepreneurs who have been students at Unloc Enterprise would pitch their business ideas.
"Parker Shaw have been a vital part in our business growth and success moving forward. Our mentoring sessions were always informative and we often left with actions that resulted in us becoming more professional and 'business' minded." –Reece Matthews, Digital Dinos
As well as mentoring, we also help sponsor Unloc Enterprise's events and roadshows.
"I think Chris and Si's business experience was the biggest differentiator. They weren't used to the industry we were working in but they certainly had a wealth of experience in business. They introduced us to the right connections, ways of operating and becoming the best directors we can be." –Reece Matthews, Digital Dinos
We'd like to thank Unloc Enterprise for the award and for the recognition they have given us. We are very pleased to be sponsoring such a helpful business and we very much look forward to working with them more in the future.