Why VR needs to be accessible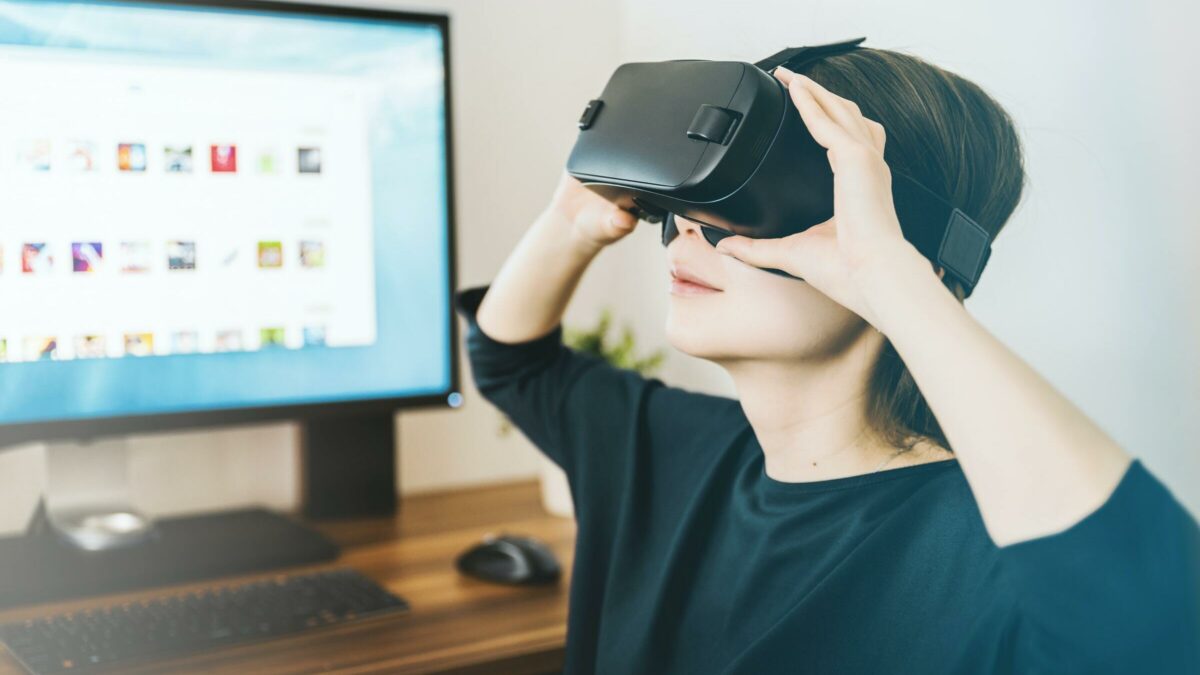 By Fay Capstick
In a recent blog we looked at the metaverse (https://bit.ly/3qNibMP). Virtual reality (VR) technologies will form an integral part of the metaverse experience. It is important that VR is accessible so that everyone can access this technology which could revolutionise our daily lives. VR offers even more benefits to those of us living with a physical disability as it offers the opportunity to experience things that would otherwise be out of reach, such as mountain climbing or diving or rollerblading. This week we will look at what VR is, how it might not be accessible to all potential users and how this is being rectified.
What is VR?
Virtual reality (VR) refers to accessing a virtual computer generated environment using a VR headset or helmet. The goal is to provide an immersive environment for the user. While primarily VR is known as a method of providing entertainment though gaming, it is also used by industry too. Industries that are benefiting from VR technology include automotive, healthcare, architecture, tourism and estate agents. This means VR is a hugely exciting technology with multiple uses.
VR as a technology isn't new.
Consumer VR was first released for gaming in the 1990s. The term VR was first used in the 1980s, when goggles and gloves were developed that could access a virtual environment. However the first attempt at a VR headset was made as far back as 1968 (https://bit.ly/3woakc1).
How is VR inaccessible?
VR heavily relies on movement from the user. Those with limited movements will find it a problem to use. It will also be a problem for those with conditions like arthritis and anyone who is in a wheelchair, as VR requires both hands to be available and the user to turn around quickly. People with low vision will experience a problem seeing adequately with some of the screen resolutions offered. VR can bring huge benefits for disabled people, by enabling them to have experiences that they would otherwise excluded from.
How can it be made accessible?
Current VR technology relies too heavily on the user being able to move, and thus interact with the virtual environment. Some VR environments require the user to be stood up. This is not suitable for wheelchair users or those with balance, fatigue or pain issues. A possible solution here would be for the user to be able to change their angle of view using voice commands instead of movement.
VR headsets need to be light enough not to cause discomfort to those with neck or head problems. They also need to be able to be taken on and off by the user, which is a problem for those with arm movement issues. As the technology improves the bulk and weight of the hardware will naturally decrease, helping to overcome some of these challenges.
For the safety of disabled users there also needs to be a way to optionally see the real world beyond the headset. This is particularly important for users who cannot quickly take their headset off to see a potential hazard in the real world. This has been addressed by the VIVE headset (https://bit.ly/3uqIdGt) which has an option to view the real world without removing the device.
Hand controllers need to be useable by people with hand issues, such as hypermobility or arthritis, which makes pressing buttons a harder or painful task. An alternative to using hand controllers would be the option to control the system by voice command or only using a single handset. The more options the better as it means people can use the most suitable for their circumstances.
For those with low vision or other visual impairments, things need to be modified on the software side. Audio descriptions, larger text, the ability to magnify and zoom in, and to alter contrast and brightness levels would all make a difference. VR software should be able to work with screen readers. Finally, an equivalent of closed captioning needs to be available for users with hearing difficulties.
Different headsets and platforms have different standards and pose different challengers to users. Having an industry standard would help users who need to have modifications available in order to access the VR environment. Some guidelines have already been suggested (https://bit.ly/352uL2Z). An industry standard similar to the Web Content Accessibility Guidelines WCAG 2.0 (https://bit.ly/3ufMsVq) would be a positive result.
How are things changing?
Wired (https://bit.ly/3IDTybt) notes that positive changes are happening. Designers and developers are trying to make their games as accessible as possible so that they are as inclusive to as many people as possible.
Accessibility is fast becoming the norm in gaming, and gaming is the current major use of VR technology. December 2021 saw the Game Accessibility Conference (https://bit.ly/3LfFYMO) take place which united advocates, developers and government in trying to make gaming an inclusive activity.
Further, big tech is aware of the challenges. Microsoft has published an insightful and sensitive paper (https://bit.ly/3JFShSi), Accessible by Design: An Opportunity for Virtual Reality. which notes that VR technologies are at a 'crucial point of near-maturity'. This paper expertly lays out the challenges that accessing VR, both hardware and software, can pose for disabled users. It notes that this is the best time to get it right. This can only be a positive development for every user.
While there are many challenges with making sure that VR is accessible to everyone, there are also huge opportunities to create a genuinely equitable platform that will bring huge benefits to people's daily experience of technology. We believe that these challenges can be overcome with adequate planning. It really is quite a simple problem to solve and one that will bring huge benefits to many people.
Final thoughts
It is vitally important that all new technologies are open to all users. Inclusion needs to be in the design brief and in the testing. Ideally the development team will have an inclusivity hiring policy. It is heartening to see that big tech and developers are already working on these challenges. VR and the metaverse can create a more inclusive world for everyone if we get this right.
With over 30 years of experience in our industry, IT and Digital recruiting and resourcing, we at Parker Shaw can help with all your hiring needs. Or if you are looking for your next position please get in contract with our team.